The Ruby Crest Trail is located in the Ruby Mountains in North Eastern Nevada. The lowest part of the Ruby Crest Trail is at 7200 feet at Harrison Pass and the highest part is Wines Peak at 10,893 feet. A Good portion of this trail goes along the spine of the Ruby Mountains around 10,000 feet in elevation. A large portion of the Ruby Crest Trail runs through wilderness area. I have seen the mileage for this hike as high as 43 miles and as low as 34 miles. I estimate this trail to be a little over 35 miles.

There are numerous lakes along the Ruby Crest Trail such as Dollar, Lamoille, Liberty, Favre, Castle, North Furlong, and Overland Lake. All of these lakes except Castle and North Furlong have fish in them. Their is also a lot of wildlife that could be seen such as mule deer, mountain goats and maybe even rocky mountain bighorn sheep just to name a few. There is also a chance that you could see a Himalayan snowcock as they are known to be around Wines Peak.
Water is usually abundant on the trail except for the 8 mile section between North Furlong and the Overland Creek Drainage. Although you should be able to melt some snow while hiking this section most times of the year. There are multiple lakes and streams from the Lamoille trailhead to North Furlong to get water. Once you drop into the drainage around Overland Creek there is water along the trail until a few miles from the trail head at Harrison Pass.
I have known people to hike the Ruby Crest Trail in 1 day, although for most people it takes longer to hike and requires a minimum of one night out on the trail. You could spent many more nights depending on how much time you want to spend site seeing, fishing or whatever else you might like to do along the trail. The Ruby Crest Trail is used some but most of the people that you will see on the trail are between the end of the road in Lamoille Canyon and 5 miles away at Favre Lake. Overland Lake is also a good place to find other hikers, campers or someone fishing. Other than these two places the Ruby Crest Trail is relatively empty.
I think of the Ruby Crest Trail in four sections.
Part 1
This part of the trail is from the end of the road in Lamoille Canyon to Wines Peak. This section of the trail is up and down and has many lakes that can be viewed from the trail such as Dollar, Lamoille, Liberty, Favre, Castle and North Furlong in that order.

The trail starts at Lamoille Canyon at 8780 feet in elevation and goes up to 10,445 feet at Liberty Pass. Then it drops down to Favre Lake at 9,510 feet. The trail goes back up to the saddle by North Furlong at 10,135 feet and then drops back down again by North Furlong Lake and then climbs again to Wines Peak at 10,893 feet.

This section of the trail has gorgeous views at every turn. Some of the best views are of Lamoille Canyon and Dollar Lakes. There is also an awesome overlook above Liberty Lake that is one of the best views in the Ruby Mountains, in my opinion. The views from on top of Wines Peak are great also as the Rubies flatten out a little on top plus you have numerous peaks and ridgelines stretched out in front of you.
Part 2
This part of the trail is from Wines Peak to the area above Overland Creek before you drop off the top of the Rubies. This section has few trees and no water. Most of the vegetation is low to the ground and has been punished by bad weather and hard winds.

The trail comes off of Wines Peak and runs along the top of the Ruby Mountains staying close to or above 10,000 feet until you drop down and head for Overland Creek. There is some up and down on this section but nothing I would consider major.

You have great views of Ruby Valley to one side and Mahogany and Long Canyon on the other. You also have a great view of South Fork Reservoir and Mound Valley.
Part 3
This part of the trail is from the area on top before you drop into Overland Creek to the area above Overland Lake. This section has more vegetation than the second part of the trail. There are a number of streams that cross the trail and there are some wild flowers scattered along the slopes. The scenery changes as you get to Overland Lake as the lake is nestled against the rocks.

Elevation changes as you drop off the top at 10,150 feet to Overland Creek at 8,990 feet. From Overland Creek you climb to Overland Lake at 9,453 feet and then head out over the top of Overland Lake which is around 10,000 feet.

Scenery along this section of the trail is very nice. Most of this section is green from the water running from the higher elevations and that leads to wildflowers and wild life. In 2009 I saw a few mule deer and one coyote on this section of trail. As you get to Overland Lake the scenery changes as Overland Lake is set against steep rocky cliffs and slopes.
Part 4
The final section is from above Overland Lake and runs to the road at Harrison Pass. This section drops off the top above Overland Lake and runs along the side of the Rubies through stands of aspens and wildflowers. There is also a few streams that you pass through. Some of the streams are in the North, Middle, and South Fork of Smith Creek plus McCutcheon Creek to name a few.

Once the trail drops from the top above Overland Lake at around 10,000 feet it descends around 8,000 feet into the Smith Creeks. After this it climbs out of Smith Creek to around 9,300 feet and then drops a little into McCutcheon Creek. Once it pulls out of McCutcheon Creek it heads toward Green Mountain and then Harrison Pass. The elevation slowly drops until you get to Harrison Pass which is at 7,200 feet. Around 4 miles before Harrison Pass the trail turns into a 4 wheeler trail, later this turns into a 4x4 road. The closer you get to Harrison Pass the better the road gets.

This section of the trail can get pretty hot. The trail also disappears into a stream for around 10 yards on this section of the hike. Then it picks back up and heads off to your right. The scenery on this section can be awesome if you time it for the wild flowers as there are a lot of them on this section. The stands of aspens and all the creeks make this a nice trail.

To Download a KML to open in Google Earth
Click Here.
This kml gives a 3D representation of the Ruby Mountains and the Ruby Crest Trail. When viewed in Google Earth there are more photos of the trail from me and other users plus points of interest from the interactive map.

---
Shuttle Services
Updated March 2020
As of this update I do not know of any Shuttle services for the Ruby Crest Trail.
---
Other Sites:
Ruby Crest Trail 2015 - An exceptional account of Andrew and Cheri's Ruby Crest Trail experience with the added splendor of the Lakes Loop Hike all rolled into one 6 day hike.
Ruby Mountain Trails - This is a great Blog by Sue Kennedy of her 4 day hike through the Ruby Crest Trail on September 23, 2010. This is a great story complete with photos, maps and a lot of expertise .
Ruby Mountains.net - A great story of a 4 day hike of the Ruby Crest Trail.
Backpacker.com - Backpacker Magazine, May 2002, Hike Nevada's Sagebrush Oasis.
---
---
Below are a few stories from hikers that have completed the Ruby Crest Trail. If you have hiked the Ruby Crest Trail and would like to share your experience with other hikers that are interested in this hike let me know by sending me an e-mail with your story and I would be happy to post it here on this site.

Alan Wakefield - here
Bill Homan 2009- here
Bill Homan 1999- here
---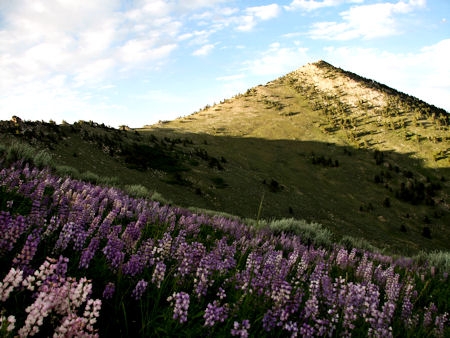 ---
To view over 170 photos of the Ruby Crest Trail go to the Ruby Crest Trail Set on flickr.
---
---