Other Bighorn Pages - Photos | Observations | How To Age | More Photos

History - Bighorn sheep were native to the Ruby Mountains but had disappeared from the Rubies until the late 1980's when Rocky Mountain Bighorn Sheep were introduced into the range. While this herd grew good, in the winter of 1996-97 these sheep had a massive die-off from pneumonia. After this die-off the herd started to rebound.

In early August 2004 a helicopter survey was done and a total of 105 sheep were seen between Secret Pass and Harrison Pass (Also known as Area 102). The bighorn sheep population in the Rubies has recovered very well and shows a 13 percent increase between the 2005-2006 and the 2007-2008 population estimates.

During the winter of 2009-2010 the bighorn sheep in the Ruby Mountains experienced another bout with pneumonia. In December of 2009 NDOW was notified of some suspicious behavior concerning the bighorn sheep. Biologist Caleb McAdoo responded to the call and confirmed some sheep showed clinical signs of pneumonia. As of the end of April 2010 the herd that ruts in Lamoille Canyon totaled around 18 sheep. This herd was counted in November 2009 at a strong 50. For more information view the Rocky Mountain Bighorn Sheep Disease Event.PDF from the Nevada Department of Wildlife.

Size - A Ram is around 3-3 1/2 (90-105 cm) feet in height to the shoulder and can weigh 125-315 pounds (57-143 kg). Ewes are smaller than Rams and are 2 1/2-3 (75-90 cm) feet to the shoulders and weigh 75-200 pounds (34-90 kg).

Horns - Rams have much larger horns than Ewes. The horns of a ram can weigh 20 pounds or more and curl back and then forward in the shape of a circle as in the photo below. It is very common that when the horns get to long the Ram will "Broom" or rub off the end of the horn. This is probably done so the Rams peripheral vision will not be blocked. The horns of a Ram have growth rings that happen every year. By using these annual growth rings you can determine the age of a Ram. The horns on a Ewe are slender and do not curl back like a Rams.

The large horns of a ram.

Ewe's have small horns compared to a ram.
This ewe is odd as it has two white spots on it's chest.

If you ever woundered , sheep have black tounges.
---




When Mountain Sheep have a disagreement they settle it by butting their horns together. Sometimes they miss the horns and hit the other sheep's nose, head or side. Other times when both their horns do hit a chip can be knocked out of the horn. The photos above show the aftermath of some of these disagreements.
---
Bighorn Sheep Tracks
---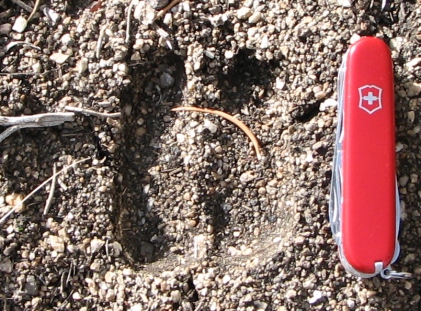 The photo above is of a Bighorn Sheep ram. The knife in the photo is 3 1/2 inches long (9 cm).
Notice how blocky the track is.
---
How Fast Do Bighorn Sheep Grow?
---
The photos below illustrate the change in a bighorn sheep thru the years. We first found this sheep when he was 3 1/2 years old. These photos show how much his horns have grown through the years. Notice how his face has changed through time and the scar between the eyes that could of been from butting heads with another sheep.
Photo Taken October 2003
This sheep is estimated at 3 1/2 years old.
Photo Taken December 2005
This sheep is estimated at 5 1/2 years old.
Photo Taken November 2006
This sheep is estimated at 6 1/2 years old.
Photo Taken November 2007
This sheep is estimated at 7 1/2 years old.
The ram below was first noticed in the spring of 2007 when he was 2 years old. We found him again in the fall six months later. This ram is easier to keep track of because of the pigmentation on his nose. This ram is one of only two sheep that we know of with the pink coloration on his nose.
Photo Taken 14 March 07
This ram is almost 2 years old.
Photo Taken 12 November 07
This ram is now 2 1/2 years old.
Phot Taken 1 March 09
This ram is almost 4 years old.
Bighorn sheep grow a lot during their first few years. The Sheep pictured below was found at the end of the lambing season in 2008. We saw this same lamb again late fall of 2008. We know for a fact that it is the same sheep because it was with its mother and she is easily distinguishable from other ewes. Notice that when this young sheep grew in its winter coat a white spot appeared on it's chest.
Photo Taken 15 June 08
This lamb is only a week or two old.
Photo Taken 2 Nov 08
This small sheep is now close to 5 months old.
---
YouTube Video Clips
If you would like to see some of these bighorn sheep in action we have posted videos on YouTube.